hi there! its been a while since my last post. and yes it has been a bliss! a wonderful bliss has dawned on me and nyemnyem is unbelievably happy. Why? There are lots of reasons for my happiness. Let me start making kwento about May 18, 2008. Syempre with lots of pictures!
May 18, 2008 12pm
The day is full of excitement. HMUA got lost, my bouquet is not the way i wanted it to be, some souvenir melted and tantrums of little boys. But booboos here and there were not able to succeed in ruining my day. Why fuss if everybody you love is there to celebrate your wedding day with you!
Oh and the pictorial, I didnt know modeling is a hard task. Mahirap palang umismile ng smile sa camera! By 4pm I thought my jaws are locking. Hehehe. But when I saw my groom, my handsome groom, waiting for me I just cant help but grin. I am so so happy!
During the ceremony, I let go of m bouquet and hold my hubby's hand instead. Mas masaya kaya na may kaholding hand kesa maghawak ng mabigat na bouquet. Btw, i eventually like the bouquet because it look great sa pictures. Hehehe. Besides, May and Anne were hardworking enough to make it look like the picture I gave them.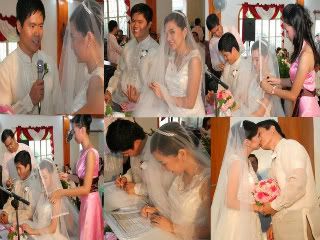 Mahirap nga lang talaga kumuha ng wild flowers na gusto ko. Hehehe. We were thrilled to see our friends attending to us during the rights. Ate lala is super gorgeous, so were the rest of the bridesmaids. The kids are so charming I wanted to hug each of them but we were so busy. Tropang kap friends were great, support to the max ang mga pare and mare! Girmy friends were fab that day, huge thanks guys!
Nways, the ceremony lasted for an hour, me thinks. Twas the pictorial after the ceremony that made it 2 hours long. The wacky ones are my favorite. Look at the cute little kids, aren't they fun to look at?
Around 6pm we were at Las Ninas and people were already hungry. Pica picas were not served but nyemnyem cares not. Si hubby ang super concerned, he wanted the caterer to serve the maki's to the guest. Oh well, there was no perfect wedding anyways and ours is no exception.
At the end of the day, it was our relationship blessed by the church which truly matters. A start of a new journey together has just begun. And yes, nyemnyem is unbelievably happy!