High and Low
This week has its high and low moments.
1. High. Free ride to Manila on a Monday morning. First hand experience of a little act of kindness from Director Cervantes of DOTC. At first us commuters did really doubt if what he said was for real, it was when he said we'd only share for our toll fee that we became conscious of the fact that the ride was certainly for free. He said he does it every time he goes to Manila but I don't wish to be in that car again next Monday. I wish that other commuter like me would experience such act of kindness and have a happy Monday morning like I did.
2. Low and High. I caught cold, and I had runny nose till Wednesday, eeeeew. It was as if I was literally crying my nose out, yuck. But it was great to be taken care of by your parents! I felt great to know I am still their bunso all along. Nanay cooked soup and tatay peeled mangoes for me! Sweeeeet =*
3. Low. Ocean and Clock. Too long a distance and too fast the time. haaaay...
4. High. Kids really give me extra energy, their smile, laugh, giggle and silly ways are just contagious.
5. Very Low. I was trying to fix the vcd player's minor prob. Now its not working anymore. I am a bad electrician.
6. High/Low. Have undergone warts cauterization. High - because at least they'll be gone for good. Low coz it hurts a bit (wallet felt it too) and black marks will be seen for 7 days. okay okay that's vain.
7. High. Summer-heat is ultra high. My head aches everytime I go out at noon.
Yan na muna sakit pa ulo ko lumabas kasi ako kanina =P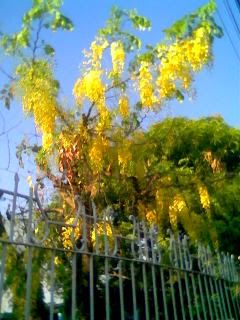 you know it's summer when you see this! appropriately named as april shower or golden shower, this tree gives that extra summer feeling! love the color!!! (and btw, if japan has sakura, philippines has this to boast about!)
bathing at the kids pool. me & my gwapo and gandang pamangkin, mana sa tita!!!
NINANG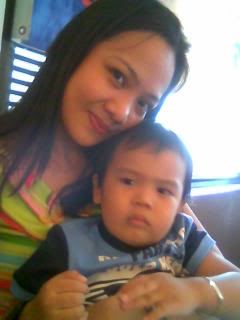 with eiron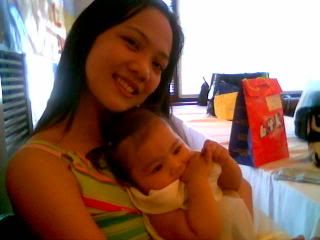 with angeline
you will feel that you're getting older when friends ask you to act as ninang to their children. hay.... how fast time flies =P