Remember my previous post?
:: weathering the storm ::
I was then hoping for a rainbow to come. Read: for the rain to finally stop and enjoy a sun shiny day!
God has given me a very special birthday gift! A rainbow beautifully painted in the sky last August 31, 2006. I am glad that I was able to look at it with 5 of the most enjoyable companies in the world, my pamangkins – Gail, Simon, Kiel, Jed, and my ate La!
see if you can see it from here. i was such in awe that i only took pictures when its about to fade...
For God has not only given me a sight but also a promise that all will be well and according to His plans.
Thank you Lord for the 27 years of blessings. For my family and friends who have been so ever faithful and loving.
My 2006 Birthday Txters:
Yonyon, Sir Boy, Inets, Mark, Ruby, Vilma, Sharon, Noyeen, Neng, Alvin, Mhay, Ate Mai, Adriel, Marlyn, Kap,09183537159 (sorry i'm too shy to ask you your name), Ms.Baby, Ptr. Bert, Aimee, Ferdy, Jocel, May Z., Rhea, Tita Myr, Apple H., Maan, Victor Joel, Zennia, Udette, Annalyn,Kuya Ferdie, thanks much! mwaah mwaah mwaaah
in any case you werent in the list, you still have 365 days to prepare and buy a celphone to be included in the 2007 list bwahaha
Nanay, my ever beautiful and loving mother cooked a great lunch and pansit for me! "Bunso rules" Thanks madear, alabyu! My pamangkins sang a beautiful haberday song!
other pics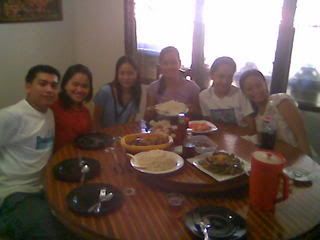 Here are my 27 wish list some farfetched but they are my wishes nonetheless:
1. Permanent abode for my family (this is WIP - work in progress- )
2. Warm company on my birthday!
3. Books - Narnia or anything C.S.Lewis, Beading, Sewing, Bo's, Coelho's,
4. Scholarship for my masters in financial engineering next trimester
5. A column on a newspaper
6. Establish the youth newsletter
7. No junk food
8. Prayer journal/blog
9. 100 Celphone case, 30 neclace, 30 sets of accessories on sept 30
10. Date with nanay and tatay
11. Attend the midweek and sunday services
12. Duet with Gary V or Martin N.
13. Read the whole pentateuch and gospels
14. Fix the stamp collection
15. Buy a digicam
16. Join a contest nyahaha "Philippine Idol" yeah!
17. Watch ASAP (baka dun pwede ko na makaduet sina Gary!
18. Have a photo shoot with some famous photographers
19. Volunteer (again) at Habitat or other charitable institution
20. A very fancy dinner date on a yatch... wahoo!
21. Meet with Program Committee and plan for 2007
22. A picture at "Welcome to Calumpit" sign at Calumpit & Pulilan boundary, there i could also stand in two places at a time, geez "A Walk to Remember" ito!
23.
to be continued =)
Sometimes when I hear a song I just couldnt get over it and have to sing it zillion times. Maybe its the lyrics, the beautiful rendition, the beat or the singer. With this one its everything. I hope I'd eventually understand how to open up my hands and watch my love ones rise.
Butterfly
When you love someone so deeply
They become your life
It's easy to succumb to overwhelming fears inside
Blindly I imaged I could
Keep you under glass
Now I understand to hold you
I must open up my hands
And watch you rise

Spread your wings and prepare to fly
For you have become a butterfly
Fly abandonedly into the sun
If you should return to me
We truly were meant to be
So spread your wings and fly
Butterfly

I have learned that beauty
Has to flourish in the light
Wild horses run unbridled
Or their spirit dies
You have given me the courage
To be all that I can
And truly feel your heart will
Lead you back to me when you're
Ready to land

Spread your wings and prepare to fly
For you have become a butterfly
Fly abandonedly into the sun
If you should return to me
We truly were meant to be
So spread your wings and fly
Butterfly

I can't pretend these tears
Aren't over flowing steadily
I can't prevent this hurt from
Almost overtaking me
But I will stand and say goodbye
For you'll never be mine
Until you know the way it feels to fly

Spread your wings and prepare to fly
For you have become a butterfly
Fly abandonedly into the sun
If you should return to me
We truly were meant to be
So spread your wings and fly
Butterfly

Spread your wings and prepare to fly
For you have become a butterfly
Fly abandonedly into the sun
If you should return to me
We truly were meant to be
So spread your wings and fly
Butterfly
So flutter through the sky
Butterfly
Fly
Spread your wings and fly
Butterfly